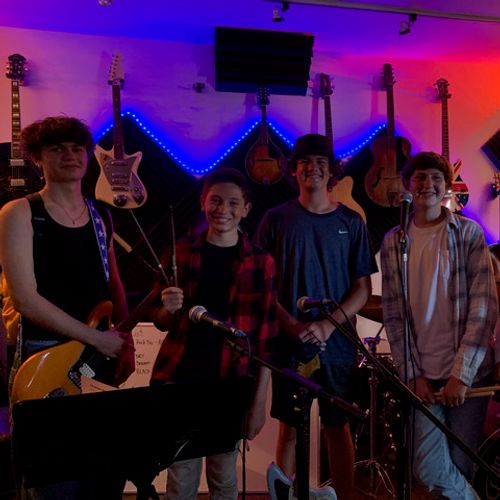 Lessons:
JAMS offers private instrument lessons to all ages.
We offer private lessons on the following instruments: guitar, bass, drums, ukulele, and keyboard. We also offer private singing lessons. Please get in touch with us if you are interested by using our contact form or emailing info@jamsmusic.org.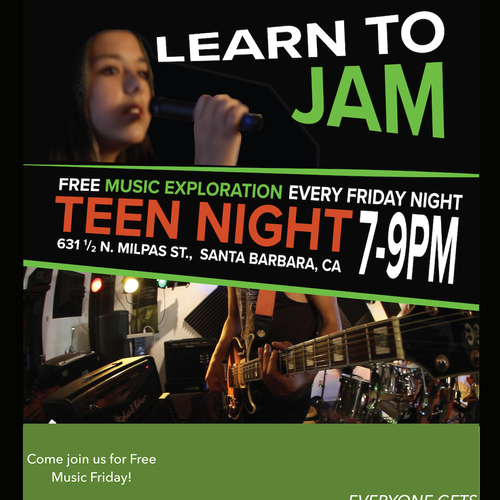 Teen Night at JAMS:
Come learn how to jam at JAMS! (It's free!) Meet fun, creative young people who might even be your future bandmates. Have fun and rock out! Bring your instrument(s) and some songs to share if you like. If you don't have an instrument, we have some that you can use at the jam. Bring friends!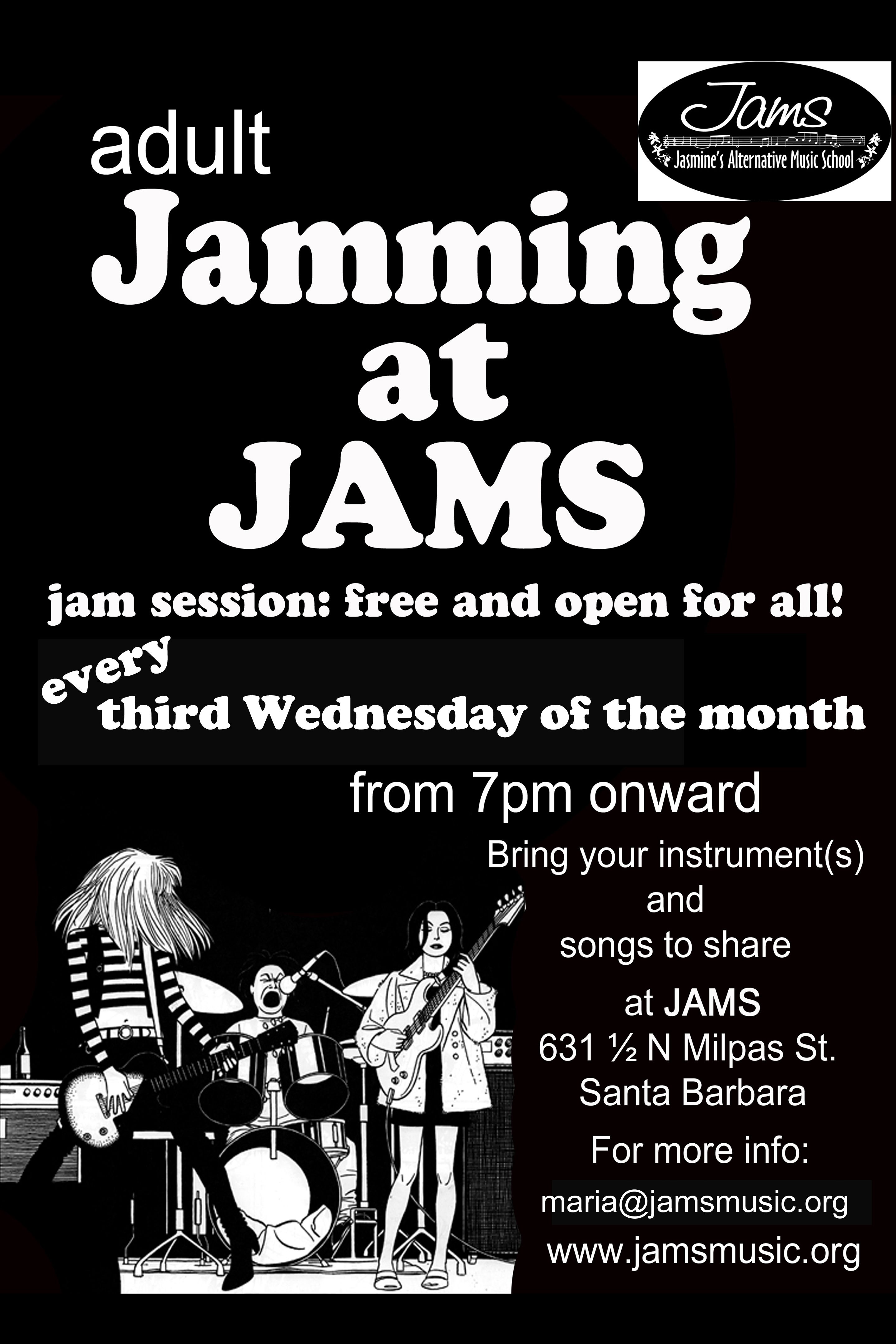 Adult Jamming at JAMS:
This is a jam session that is open to adults and older teens who have some music experience. Please bring your instrument(s) and some songs to share. Everyone is welcome, and it's free. It takes place every third Wednesday of the month starting at 7pm. Please bring your instrument(s) and some songs to share. But if you don't have your own instrument, we have a lot of instruments that you are welcome to use. Click here for our songbook– it is by no means restrictive – it's just a jumping off point for us to get started. Please email maria@jamsmusic.org if you have any questions or would like to sign up. The aim is to help create a positive and fun music community in Santa Barbara, where everyone has space to contribute. We hope to see you there!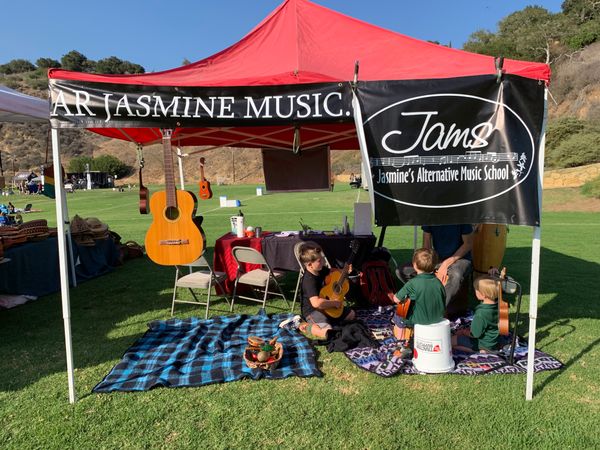 Music Exploration Booth:
At our music exploration table, we have a number of different instruments that folks of all ages can try out, and we are happy to provide guidance to introduce them to the instruments. We also provide information on our programs. Additionally, we are actively seeking volunteers and new board members, and the music exploration table is a great way to help us connect with others who want us to take our community project forward and help it grow.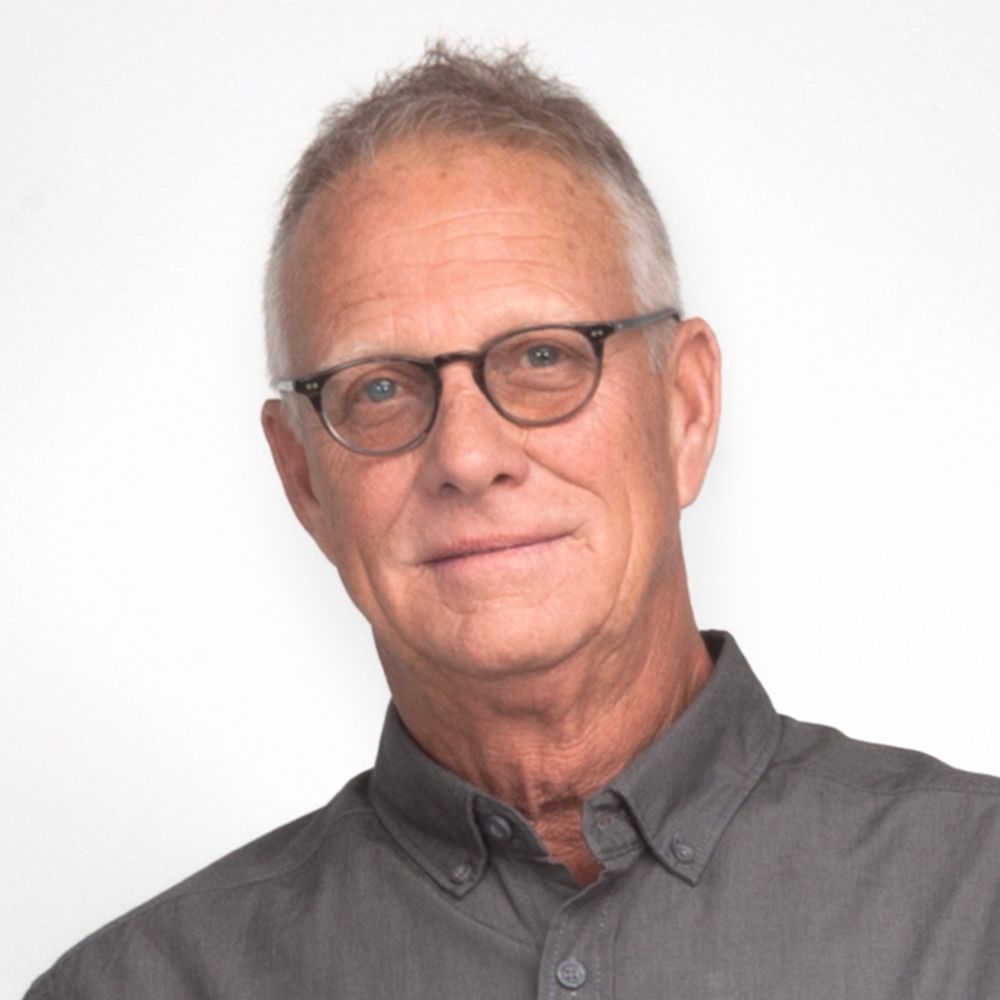 Bob Terry – drum teacher, band coach
With a career spanning over 40 years, Bob Terry is a professional drummer, educator, clinician, author, and consultant in the music industry. He has credits as a touring/recording drummer for many internationally known artists as well as a marketing executive and consultant for some of the top music manufacturers and professional drummers in the world. Bob offers a full range of services that include: live performance, custom recorded drum tracks, master classes, clinics, coaching, mentoring, seminars, speaking engagements and consultation.
Bob Terry has played on numerous recordings and a countless number of live performances with internationally known artists; perhaps most notably the British pop band, Wang Chung. He specializes in simple, solid, and steady grooves that serve the song.
Bob works as a consultant with many top music instrument manufacturers that have included Yamaha Corporation of America and Japan, KHS America and Taiwan, and Line 6, to name a few. He has held the positions of marketing director and manager of artist
relations. He works closely with some of the top drummers in the world on electronic drumming, personal management, career development, and public relations.
Additionally, Bob authored a book entitled The Beginner's Guide to Electronic Drums; published and distributed by the Hal Leonard Corporation.
Bob holds a position as a staff member within the drum program at the prestigious Musicians Institute, College of Contemporary Music in Hollywood, California. He mentors students in career development, lessons, mentoring, and electronic drumming. To inquire about lessons, email Bob at bob@jamsmusic.org.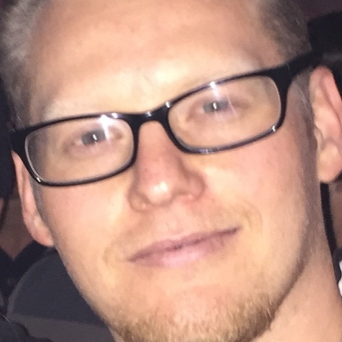 Cody Makai Wheatley – manager of the practice space and co-founder of JAMS
Cody is the co-founder of JAMS and The StarJasmine Music Foundation, which was founded in loving memory of his sister, Jasmine. He is the studio manager of JAMS and a recording engineer who graduated with honors.
 
Cody started playing music when he was 12 years old. He was passionate about the music right from the start. His first band he formed at 14 was called Makai. He played all around Santa Barbara and the central coast and was well received. Cody produced his first CD with his band Makai at 17 years old. One of the songs, entitled "Memories", was featured on the first Star Jasmine Music Foundation CD, which was released in 2004.
Today Cody is in three bands: Cornerstone, One 2 Tree, and King Zero. His instrument is the guitar – he plays lead and rhythm, and he also co-writes songs. He also handles live sound for many of his band performances.
Cody helped produce and he engineered and played on his 2nd album with his band Cornerstone. He is now working on albums for his other two bands.
His specialty is reggae music, though Cody is proficient in many styles of music on guitar.
On top of those commitments, Cody has been working at the Santa Barbara Bowl as manager of concessions for 18 years.  
Cody recorded and played on the new CD 10 10 Paradigms, most recently released spring of 2021. On one of the songs,"Turn The Tide", Cody recorded John Densmore from the Doors on the drums.
Most recently, Cody co-wrote a new song entitled "Love Come Down" with former lead singer of Toto, Jean Michel Byron, and it was released spring of 2021. It's available on all your favorite streaming services.
In August and September of 2021 Cody opened up for Don Carlos and Pato Banton.
To book the band practice space, call Cody at (805) 452-8191.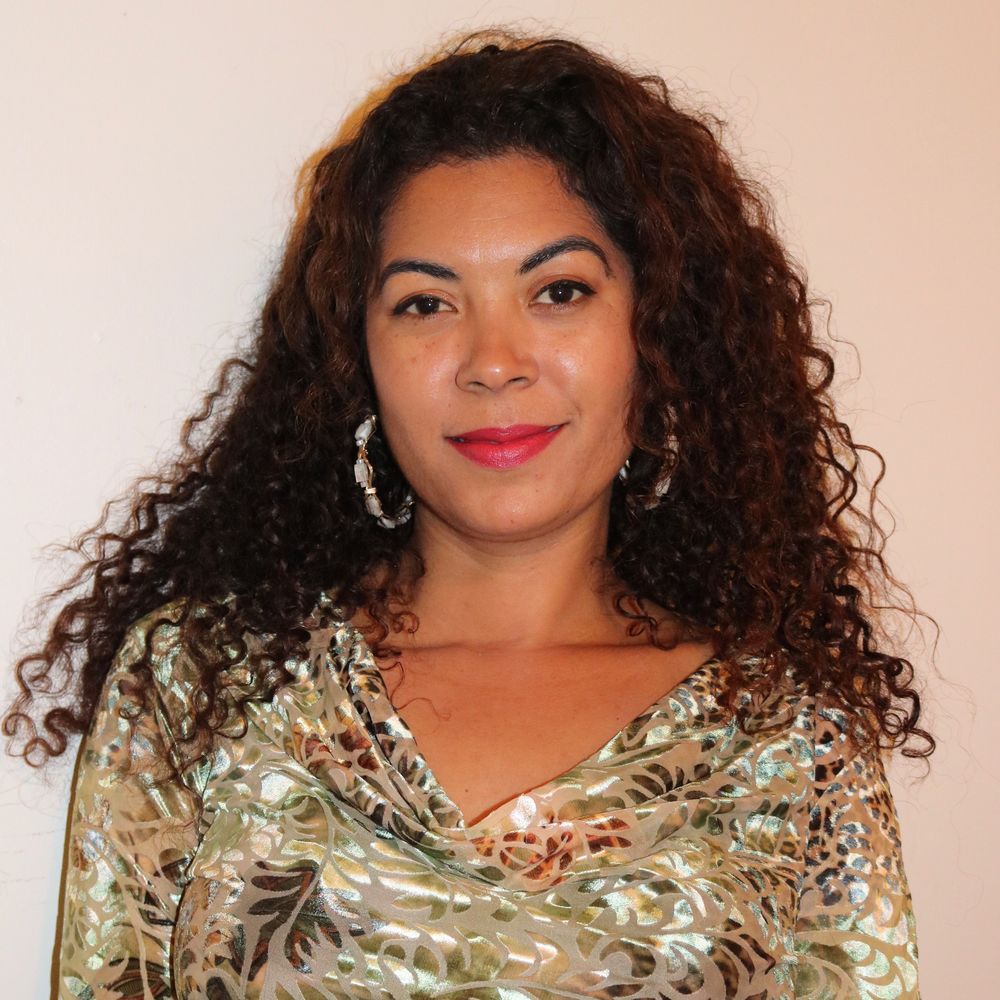 Alla McKeon – vocal teacher
Alla Rahka McKeon was raised in Santa Barbara, CA and has been an active member of the arts community through music and performance from a young age. Her credits include being a vocalist and instrumentalist who has studied a wide range of styles from jazz to classical. Alla has appeared on many stages and opened for several international artists throughout her 25 years of performance history. She has a love for music and for sharing the gift of learning with others.
For vocal lesson inquiries, email alla@jamsmusic.org.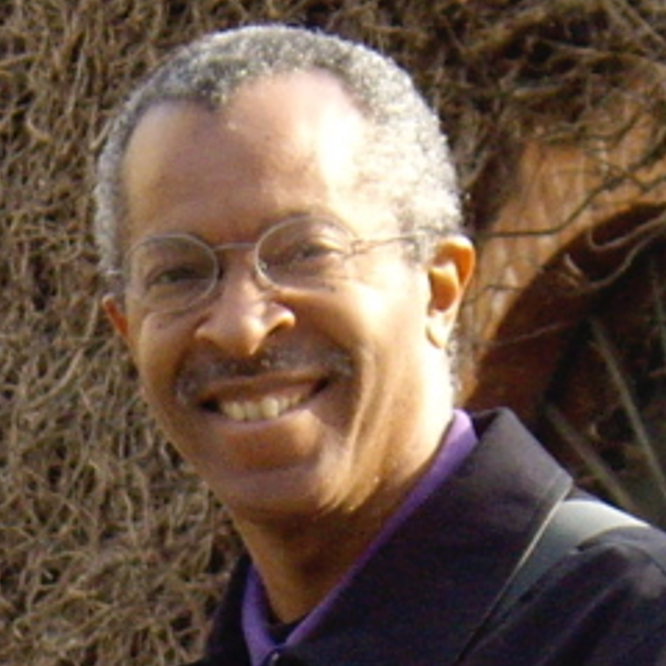 Ejé Lynn-Jacobs – vocal workshop leader
Ejé Lynn-Jacobs is a professional vocal musician, percussionist, bass guitarist and music producer who has spent time as a studio musician/producer in Hawaii, San Francisco and L.A. He has recorded and toured internationally with various artists, including Kenny Loggins, Maria Muldaur, Daryl Dragon (The Captain and Tennille) and Kenneth Nash. With a music degree from San Francisco State University, Ejé is also a composer, a vocal instructor specializing in beginning, intermediate, recording studio singing, assists traumatic brain injury patients recover speech, a voice training adjunct faculty member at SBCC School of Extended Learning, and is co-founder and associate music director of the Santa Barbara Vocal Jazz Foundation (SBVJF) a non profit organization that provides the Santa Barbara community with Vocal Jazz programs for Elementary and Jr. High Schools. The organization focuses on communicative outreach and education about the art form and provides forums for singers of all ages to increase their vocal performance and communication skills.
To register for a workshop or for inquiries, email eje@jamsmusic.org.